Investor Days by Investor.Events
In-Person event attendance is very challenging these days! Investors are being selective where they allocate their energy, time, and capital. Issuers continue to invest into their growth, focus on attracting new capital, and provide confidence to their shareholders. We've hosted many "invite everyone" investor events and through this experience, we've realized that issuers should also be enhancing their investor events and meetings by inviting their current shareholders and database subscribers - we've come up with a solution to combine both!
Hosting Investor Events and Meetings "Investor Days" using Shareholder Demographics
Email blasts typically land in junk folders, shareholders are usually only contacted by mail for AGM purposes, and social followers might miss a post… the solution: we will send, on your behalf, snail mail invitations to your shareholders, individualized emails to your subscribers, and direct messages to your followers! We'll analyze your NOBO list and build Investor Days around your shareholder demographics and produce these events for you!
We'll also use traditional event invitations to invite potential shareholders to join = our Investor.Events Network, Phone Calls, Social Media Invites, Sponsored Posts, and various other advertising channels… We'll explore every option to ensure your Investor Days hit every goal!
A typical Investor Day would include Breakfast, Lunch and Dinner Meetings with one-on-one meetings in between.
8AM: Breakfast Meeting
10AM: One-on-One Meeting
11AM: One-on-One Meeting
12:30PM: Lunch Meeting
3PM: One-on-One Meeting
4PM: One-on-One Meeting
6PM: Dinner Meeting
VIP EVENTS (see below)
We also have created a list of VIP Events that we can include into the Investor Days mix, such as Sporting Suite Events, Property Tours, Fishing Charters, Golf Outings, Conference Luncheons and Receptions, Facility Tours, Digital Events, and Gaming-Casino Events.
Event Advisory, Coordination and Logistics
With over 100 successful events under our belt, we are your experienced partners in crafting seamless and meaningful Investor Days and VIP Events – for you and your shareholders! We will be your dedicated event coordinator, provide advisory based on our event history, navigate market conditions, work around-with competing events, and make sure every logistical detail is covered.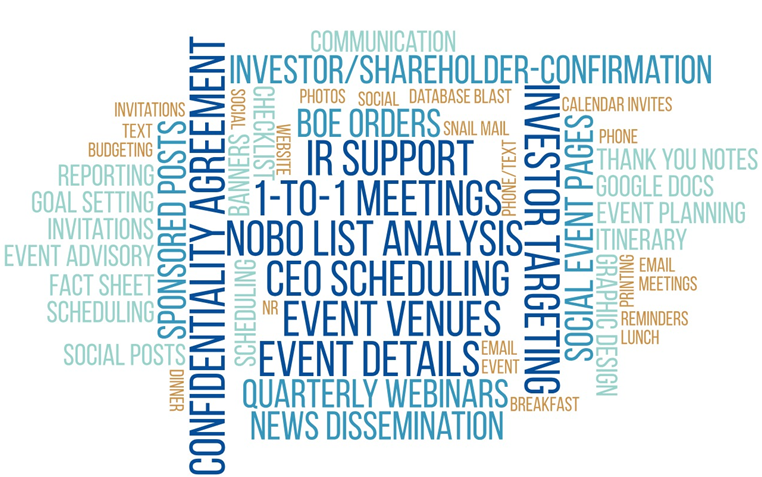 "These Investor Days require a great deal of planning, coordination and administrative support; our goal is to align with your corporate objectives, work with your team to create a productive event schedule and host well-attended events." Neil Lock CEO at Investor.Events stneve.rotsevni@lien | 604-380-4888


Sign up for Event Alerts